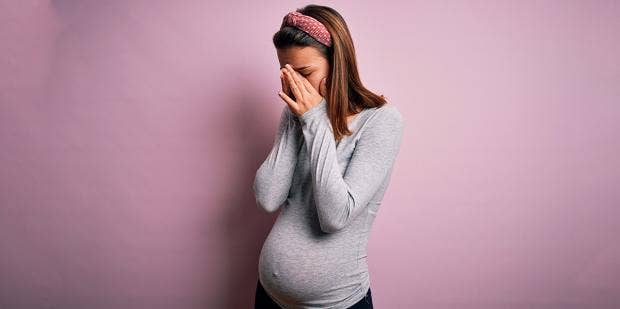 I got pregnant in college so I wouldn't have to face real life
I waddled across the stage to receive my college diploma, knowing that my leather-bound diploma would serve as a paperweight in the months and years to come.
I was one of hundreds of graduates ready to take the next step in life.
For most, that meant turning internships into jobs or leaving to attend college, perhaps traveling the world before settling into their new adult lives.
Me, though? I was having a baby.
A deep, primitive part of me has wanted to be a mother for quite some time.
A friend of mine confided to me that she also had these feelings from time to time.
I imagine quite a few young women have maternal urges from time to time when they are in their early childbearing years.
Most of them, however, do not act on these misguided cravings and completely reorganize their lives to become young mothers.
But that's exactly what I did.
The truth was that no rearrangement was necessary. In fact, having a baby seemed easier than facing the real world and trying to figure out what to do with my life after college.
I had spent hours meeting with professors and counselors during my junior and senior years, desperately trying to get someone to tell me exactly what you are supposed to do with a liberal arts degree in the world. real.
Higher education was often mentioned, but I knew it was not a viable option for me.
I would have to walk away from my husband to attend an MFA program, not to mention sinking ourselves into crippling debt and probably having the same dodgy future when it's over.
I knew I wanted to be a mother. I knew the steps needed to become a mother (it's not that hard when you're 21 and fertile).
So one impulsive night I took the plunge, and my husband and I started trying for a baby.
Let it sink in: a baby. On purpose. To college.
Being pregnant my last semester in college wasn't easy, but I felt a perverse sense of relief whenever someone asked me what I was doing after graduation and I could nod. head in the direction of my protruding belly.
I didn't need to have a career path mapped out or my resume enhanced. I had a baby on the way; I could figure out the rest later.
Once my son was born, however, I found that having a baby wasn't exactly a pause button in adulthood.
My transition into motherhood was much more difficult than I had anticipated.
I struggled with postpartum depression for the first year and a half of my son's life, in part because I was so young and emotionally unprepared when I had him.
Going from an active college life and retail job to being a stay-at-home mom was a complete shock to my system.
As for the real world? It hit me even harder now that I had a kid. There were bigger bills to pay. There were more responsibilities to take on.
The marriage became very difficult, very quickly. I knew motherhood would be hard, but I didn't realize how hard it was. I prepared as best I could, but you can never really be prepared.
Although I had planned to put my future on the back burner to figure it out at a later date, I found myself restless much sooner than expected. Instead of dampening my career goals for the future, having a baby only amplified my need to pursue my dreams.
I suddenly had this little person staring at me and I didn't want to disappoint him.
Suddenly I wanted more for myself than ever before.
I wanted to be an example of all that he could accomplish.
Related stories from YourTango:
I wanted to make him proud.
I wanted to show her that young motherhood didn't limit me or define me in a negative way, even though (or perhaps mostly because) it had been difficult.
I wanted him to know that he lit a fire in me that pushed me to be better.
I didn't want to hide anymore.
The years since his birth have been a tremendous period of growth for me, a far cry from the stagnant future I envisioned near the end of my academic career.
I followed my passions wholeheartedly, and took giant steps towards my dreams where my younger self would have timidly taken steps.
Becoming a mom has given me a focus and motivation that I might not otherwise have discovered.
My plan to escape the real world by diving into motherhood may have failed miserably, but I'm so happy about it.
More for you on YourTango:
Gemma Hartley is a freelance writer. His writings have appeared on first mom, Children's fashion, MindBodyGreen, Role/Restartand mom.me.