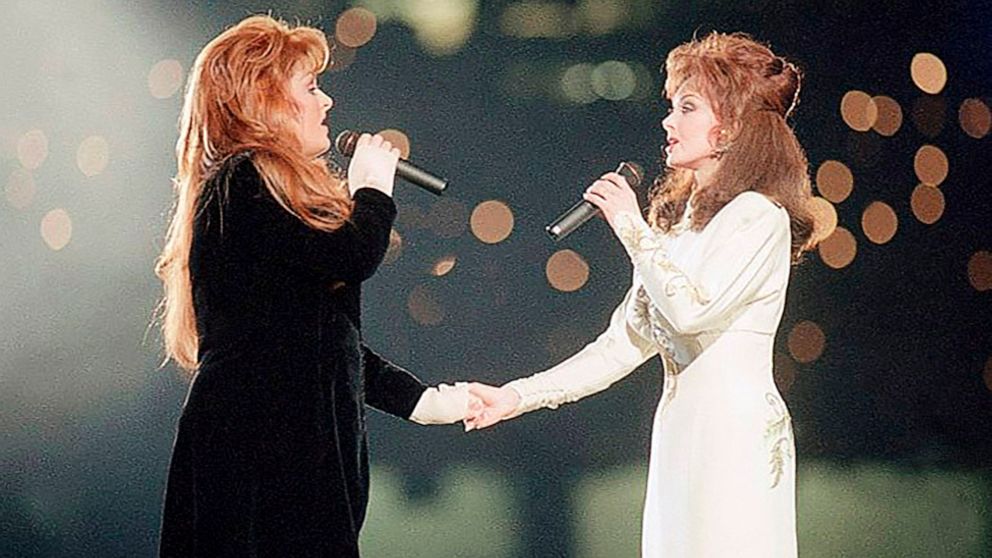 ESSAY: For a gay country boy, Naomi Judd built a bridge
Somewhere in Michigan in the early 1990s, a teenage farm boy clings to a chain-link fence at the edge of the county fairgrounds. He seeks a distant, free glimpse of Naomi and Wynonna Judd.
They appear briefly, sliding in high heels to the edge of the grandstand stage. From a distance, illuminated by a spotlight, they form a blur of sparkling sequins and red hair. Naomi, the duo's mother and de facto host, says something, but even amplified, her words float through the hot August night.
Soon, however, a soft scratching and Wynonna's hoarse voice carried to him, "I would whisper love so loudly, every heart could understand that love and only love can join the tribes of man."
So his mother calls him, "Jeff, get in the car!" It's time to go."
I don't know what it was, but for me and most people, the chemistry between Naomi and Wynonna and the feelings they sparked inside the listener was almost tangible. My first (and only) sighting of them is forever etched in my memory.
After learning on Saturday of Naomi's death, I now realize everything I went through with them.
When I was a tween who was starting to come to terms with my sexuality and deal with bullies, and the Judds were singing "Mama He's Crazy," I understood the narrator's insecurities — why would anyone want me?
After my grandfather died, I listened to "Grandfather" over and over, crying that he wouldn't be able to tell me about the good old days, which he actually did. (The song has since lost some of its luster for me – the good old days weren't exactly good. But I still think of my grandfather.)
And after my dad died, I wanted to be at that breakfast table they sang about in "Love Is Alive," soaking up all the love that was there.
These voices. This hair. These dresses. For a lonely gay boy in the rural Midwest, they were a calling card and a lifeline of sorts.
Wynonna was clearly the biggest voice of the duo. But without Naomi's harmonies and stage presence, I doubt her daughter would ever become the star she is. And would Ashley have made it in Hollywood without her mother's support?
As I grew older, the Judds' story impressed me and I saw bits and pieces of it in my own life. Naomi's single motherhood, a nurse trying to land a record deal, clicked my vision of my newly widowed mother, another country woman, trying to stay together while raising children.
If Naomi could do it, she could too. And me too.
When the cancer hit one of my leg bones after my senior year in high school, I thought of Naomi and her hepatitis diagnosis. She ends up overcoming it. Me too.
I went to college, got married (well, I got committed – gay marriage wasn't legal then) and ended up in New York. Like Naomi, I had persevered and succeeded.
There I cultivated a new circle of friends, many of whom were also from Michigan. One night a Judds song came up, I can't remember which one, and a new friend of mine started singing along. Turns out we all loved the Judds. I had to travel all the way to New York to find people from my country.
Soon we two couples became inseparable, camping together several times a summer. When my husband and I moved to Philadelphia and stayed in New York, we continued our camping meetings, and there was never a camping trip without a Judds singing around the fire, under the starry sky of Pennsylvania.
The two couples have since divorced, and I have remarried — making sure to impress a Judds appreciation on my new hubby — but we all remain close and in touch. The lack of animosity between us reminds me of that line in "Love Can Build a Bridge", perhaps Naomi's crowning achievement as a songwriter: "Love and only love can join the tribes of 'male."
I once sang this song in a piano bar, and a man in the audience approached me afterwards, impressed by the song (probably not by my performance). It was so beautiful and clever that he thought it was a Broadway song. No, I said, just an old country song. He was shocked.
In this world, at this time, can love really reach the tribes of man? It wasn't a question when the Judds asked, "Don't you think it's time?" Naomi knew the answer all along.
——— Follow Jeff McMillan on Twitter at https://twitter.com/jeffmcmillanpa