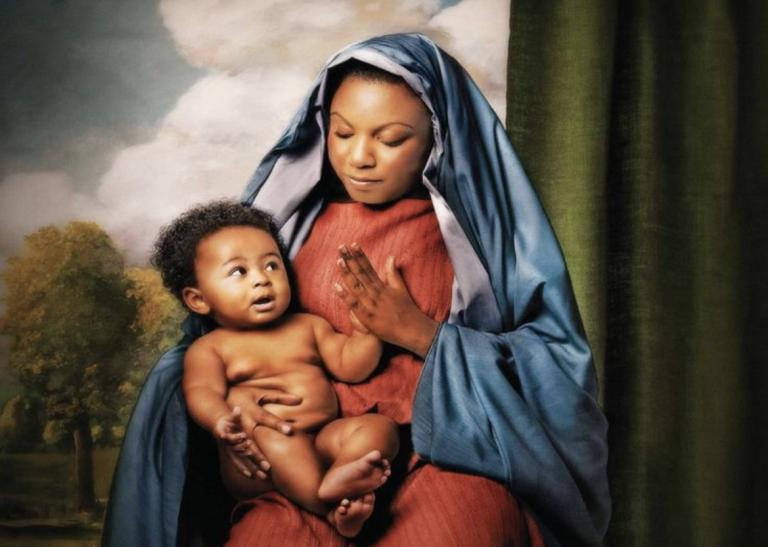 Dark Devotional: Mary, motherhood and mixed feelings
Dark Devotional: Mary, motherhood and mixed feelings
Behold, I am the handmaid of the Lord. Be it done to me according to your word.
The last Sunday of Advent, the Sunday of Mary's assent, the Sunday of motherhood. It is also the Sunday of Mary did you know? and Breath from the sky.
Let's give up Mary did you know? immediately – yes, she did it right. We will come back to Breath from the sky.
Maternity. I will never forget the moment in the middle of a conversation when my friend turned to me and said, "Is your mother dead?
I looked at her, puzzled, and said, 'No, why?'
She replied, 'Because you always talk about your father, never your mother.' And I realized she was right. You can see proof of that here. Almost 3,000 words and she barely glances at it.
It would be because she barely glanced inside us. My mother was – is even more pronounced in her dementia – decidedly absent, despite her physical presence. She's gone through life in a fugue, except the times her rage exploded in our world. Broken plates, screams, bangs – almost the only touches I remember from her were rough or uncomfortable, controlling.
My relationship with her is a strange combination of emptiness and sticky spider web. She would be in this runaway state for centuries, breaking plates with rage, then at random times becoming greedy and greedy, pretending to want a mother-daughter relationship, requiring pleasant chats the night after settling in to bed. I poured out part of my heart, which she would immediately bring back to my father, who then became food for his rage and abuse.
In the midst of my hate and contempt – never more pronounced than when my grandfather died and she became totally inoperable as the rest of us went on with our lives – there was a need to be seen and loved by her, to be at the center of her world, alongside my brother.
Needless to say, from the first photos of me as a newborn baby, where she couldn't bring herself to look at me, to photos of teenagers / young adults where our fractured relationship was evident, that love would never come. She was forever indifferent, unless I was an essential object of her rage or desperate need.
So yeah, pass me your Mother's Day / Mother's Sunday / Mother-Child Saccharin bullshit. If I see you being sensitive with your teenage / adult child, I guess you are captivating and controlling. If I hear you say your kid can't hurt, I guess you are raising an authorized monster. If all I see is you cooing over your kid's sports / specials / contests, I guess you are an arrogant stage mom. Don't even ask me how often I suspect Munchausen by proxy.
When I look at mothers I look for signs of nascent filial cannibalism and never trust the evidence of unconditional love.
While I don't express it often, it's one of the reasons I'm so fiercely pro-choice. To my Catholic friends, I talk about rape, incest, and the mother's life in danger, because that's what they can hear, if they are able to hear anything. To my lay friends I add the part that women are not forced to be parents, because that is what they or they can hear.
But what I never say is that I would have preferred to have had a miscarriage or abortion rather than being born and raised by my mother. It would have been much better to let me go and allow me to become a baby who was desperately loved and wanted. No child should have to grow up with a mother who doesn't want them, who wants their very existence. Don't tell me this bullshit about how it made me stronger, how it "made me resilient", how I wouldn't be who I am without it. Fuck that. Do people need to be tortured and hurt to build character? Don't you think unconditional love and community should do this?
To be loved is not a privilege, it is the basis of our existence. If you think that strength, growth, and character building only happen through abuse and adversity, your perspective and your society are toxic. The resistance needed for growth extends out of its comfort zone, not trauma. Not only that, your imagination is profoundly slowed down if you cannot see how love and kindness generates more (and lastingly) love and kindness.
Suffice it to say that my view of motherhood leans more toward Snow White's stepmom than Molly Weasley or Dr. Murry from A wrinkle in time.
This is my limp. The only reason it's a limp and not an amputation is because of the moms of friends who welcomed me into their homes and hearts (looking at you, Viv Dorwart, Ann Fauconnet, Anne Brumfitt ( RIP) and others). Although I could only receive love droppers from these mother figures at first, these small amounts have made their mark, slowly but surely. As this love crept in, I began to view older women with less suspicion, not viewing their reaching out as gripping claws, but as gestures of affection and support. I can still falter at first, but only with those I don't know well.
The real breakthrough came when my friends – those amazing women that I laughed at, cried out for, became "WTAF?" With, and trust with my life – became mothers. While I might have struggled at first to understand how they could be so close to their moms, I immediately understood how their little ones could be close to them, and saw how close they were to them. deep love could thrive alongside human imperfection. My friends love to be with their children: they are not a burden, a duty or an accessory. They are deeply loved and cherished human beings. Plus, the fierce love and protection I feel for these children has given me a sense of what motherhood can be like.
I have come a long way, but there is still a long way to go. The healing never ends, it just keeps unfolding.
Did I ever want to be a mother? Believe it or not, fiercely and desperately, but I was also terrified of becoming my mother. And I just wanted to do it in a stable relationship, trusting my husband to balance me, challenge me, and help me become the mother every child deserves: unconditionally loving, messy, flawed, one that allows them to come together. unfold in what Gd dreamed they would do. be when (S) He created them.
Neither the husband nor the children arrived, by the way, and my feelings were more complicated than I thought. When horrors like Sandy Hook happened, the first prayer on my lips was for children and their families, the second was "Thank you, Gd, that I am not a mother. I couldn't have taken it. Obviously, I wasn't ready to let a sword pierce my own soul.
Despite these prayers, there was grief over what should never be, as peri-menopause and then menopause arrived. As I worked through this, I began to realize that motherhood was perhaps a lot wider than I had expected. Maybe I had been a mother when I had students I loved very much, even though they made me angry and pushed me up the wall. Maybe I was a mother when Marie was sitting in my classroom and needed to talk. Maybe I was a mother when the children of friends rested their heads on my shoulder, telling me something they couldn't tell their parents yet. Maybe I was a mother every time I held the space for something unborn: a healing, a revelation, a project, a new way of being.
In a way, I realized that because I didn't have a child of my own, every child was my child. This is where Marie intervened.
Oddly enough, I had always been drawn to her, perhaps initially as a "safe" mother, one who would never actually be there. Long before I became a Catholic, I would recite the Hail Mary in times of danger, such as driving through a snowstorm. I had an inexplicable feeling of be her child… e Love you.
I marveled at her fiat, knowing what it might cost her, especially as her pregnancy became visible. I marveled at her love for this newborn baby and how it manifested in her worry and anger when she and Joseph found him in the temple. I wondered what she was thinking in her heart when Simeon spoke. I sneered at his words to Jesus at Cana and at the obvious affection in his response. I loved the images of her tickling the feet of Jesus and my heart broke in the image of her at the foot of the cross – the inevitable end for her, allowing her to unfold in the man she he was meant to become.
Breath from the sky, written by English songwriter Chris Eaton, was the first song about him that I remember hearing, and it rocked me deeply. She was no longer just a mother, but a traveling companion: uncertain, afraid, and praying the only possible prayer:
Breath from the sky
Hold me together
Always be near me
Breath from the sky.

Breath from the sky
Light up my darkness
Pour on me your holiness
Because you are holy
Breath from the sky.
People may say, 'Blessed are you who have believed that what has been spoken to you by the Lord
would be accomplished, "but that doesn't make the road any less difficult, lonely and frightening.
And in the end, isn't her song about all of us and the roads we take? Because if motherhood is conceiving, carrying and giving birth to things in the world, then aren't we all mothers? Whether it's a baby, a therapy session, being with someone in their grief, building a homeless shelter or a women's shelter, infrastructure and a safety net. social, to build peace, to end poverty – don't all of these things have mothers, regardless of gender? And isn't this loneliness, this fear and this doubt part of the conception, the carrying and the birth of all these children, whatever form they take?
No matter how painful and complicated my feelings about motherhood can be, I can't turn away from it. I have to lift the mantle and put it on, because, as Meister Eckhart said,
We are all meant to be mothers of God because God always needs to be born.
And it is not a vocation that I can turn away from. All I can do is move forward, in all my messy love, hurt, terror and doubt, echoing what the songwriter of Breath from the sky and I imagine that Mary must have said to the Father one lonely night:
Do you wonder looking at my face
If a wiser one should have had my place?
But I offer all that I am –
For the mercy of your plan.

Help me to be strong.

Help me to be.

Help me.
Irim Sarwar is an American of IndoPak ancestry now living in the UK, born Muslim and turned Catholic while teaching in a modern Orthodox Jewish school. She has also cataloged books in a Dominican priory, worked in the area of ​​quality assurance and is currently churchwarden and freelance writer / editor. Spiritual bastard. Believes in hybrid vigor in all things, especially the journeys of faith.